The start of the year is a time to look forward and there's nothing more exciting to look forward to than new games.
So, with that in mind, here – listed in alphabetic order – are our most anticipated blockchain games in 2019.
Age of Rust
Given US developer SpacePirate Games has been working on Age of Rust since mid-2017, it's no surprise there have been some changes.
Most notably, the game started out on the Bitcoin-based Counterparty network with its own Rustbits cryptocurrency, but has since switched and is now part of the Enjin Coin Multiverse of games, which is based on the Ethereum blockchain.
The focus of the game itself has changed to as SpacePirate has evolved from someone's part-time project into a full-scale development studio.
Most notable has been the change from being a text-based adventure into a 3D open world game. This has seen the introduction of combat missions, but Age of Rust has also maintained its core focus on exploration and puzzle-solving.
Another long term feature has been interoperability. Age of Rust has always been closely linked to Neon District, for example, and (as a Counterparty project) also supported BitCrystals' Book of Orbswallet.
Obviously this sort of interoperability is greatly enhanced by using Enjin. All Multiverse game are designed with this in mind and must support a shared set of items.
Find out more at the Age of Rustwebsite.
Blankos Block Party
The first release from US blockchain game platform Mythical Games (and developed by UK outfit Third Kind Games), we don't yet have a lot of specific details about Blankos Block Party.
What we do know is Blankos are "fun and mischievous vinyl toys that inhabit their own offbeat world, focusing on good vibes and good times". And that the game will be a party MMO initially be released for PC/Mac.
Other aspects we expect is a strong focus on collectibles – after all that's what the Blankos are all about – as well as a light touch when it comes to blockchain user experience. We think the game is running on the EOS blockchain, which enables the developers to handle a lot of the hassle of individual wallets etc.
Find out more at the Blankos website.
Crypto Space Commander
As with other blockchain games during 2018, Crypto Space Commander has experienced some key changes. Originally designed as a browser game, it's since moved to a full PC client release; something that pushed its planned release from late 2018 into 2019.
The core vision – a space exploration, trading and combat experience running on Ethereum – remains intact, however.
Indeed, it could be argued that the change of emphasis and the prolonged production time will result in a deep, more engaging experience. It has also enabled developer Lucid Sight to build up its community, through space ship item sales and a simple browser-based mining mini-game. To-date, over 16,000 users have engaged with the game.
As for future plans, the game is approaching its v1.0 Alpha which will enable players to get their initial taste of a universe that eventually promises over 900 star systems to mine, craft, trade and fight over.
Find out more at the CSC website.
CryptoWars
Argentine developer Experimental (aka E11) has been working on its blockchain-based strategy game CryptoWars for most of 2018 and the results are now taking shape.
Running on the Ethereum blockchain, using Loom sidechains for its gameplay and the Metamask wallet for login, CryptoWars is loosely based on free-to-play build-and-battler titles such as Clash of Clans.
In this way, you collect and use resources (Gold and Crystals) to build and upgrade your buildings, create armies for looting Quantum Dust (the game's competitive ranking resource), and research technology to do everything more efficiently. Another key element of long term play is the ability to join Alliances to complete high level cooperative missions and goals.
Significantly use of sidechains means there's no gas fee for playing the game, but you can buy and sell characters skins as well as starter packs so you can speed up your initial base building.
Currently in alpha testing – there are four special week-long test tournaments running from January to April – CryptoWars – should be released sometime soon after.
Find out more at the CryptoWars' website.
Gods Unchained
With a successful item pre-sale and closed beta behind it, Fuel Bros' competitive TCG Gods Unchained is shaping up to be the first big blockchain game of 2019.
Interestingly, the PC/Mac client-based game is free-to-play, enabling all players to use a core set of non-blockchain cards, plus rotating weekly specials. You'll only have to spend Ether via Metamask if you want to get involved in buying and selling blockchain cards to build out your deck.
Throw into the mix the Gods Unchained World Championship, an esports tournament with a prize pool of $400,000, and the recent CryptoKitties' interoperability deal, there should be plenty to get exciting about when the game goes live.
Find out more at the Gods Unchained website.
Hash Rush
While many blockchain games offer a deep integration that require the use of crypto wallets, other are taking a more nuanced approach.
One such is Hash Rush, which is a PC client 3d real-time strategy build-and-battler game that rewards players using cryptocurrency and offers the usual item ownership and marketplace options. The important feature, however, is you don't need crypto in order to play it.
As its name suggest, Hash Rush does play with sector memes. For example, one part of the game is mining (and looting) Crypto Crystals. It's these which are used for your leaderboard ranking. The game also has its own ERC20 token, Rush Coin and a range of ERC721 character skins.
Yet, for all the blockchain elements what really stands out about Hash Rush is its graphical quality, which combined with ease of access, means it has the potential to be one of the blockchain games that goes big in 2019.
Find out more at the Hash Rush website.
MLB Crypto Baseball 2019
Released in late September 2018 (rather than its planned spring timeframe to hit the start of the 2018 MLB season), the first version of MLB Crypto Baseball also launched into a fast-declining crypto market.
In that context, the Ethereum-based dapp's 5,000-odd user base demonstrated decent traction and also provided developer Lucid Sight with some good data points with which to approach its 2019 season game.
Designed as a collectible experience that driven by what actually happens in MLB games (and including crypto representations of all current MLB players called MLB Cryptos), MLB Crypto Baseball 2019 sees players picking a team, creating a game card for it, and then loading it with up to 21 players; 9 starting players, 6 bench players, and 6 bullpen pitchers.
You then predict what events you think will happen in that team's next game, earning points based on the real-life performance of the team and the MLB Cryptos players included on your team card. These rewards are used to claim rewards, including rare MLB Cryptos players.
You can read more about the proposed changes here and check out the game's website here.
Neon District
Initially conceived as a trading card game but since redesigned as an RPG, Neon District is a blockchain game that looks to mix free-to-play turn-based battle gameplay using sidechains with item ownership on Ethereum.
Set in a dystopian universe, it sees players fighting back against The Mainspring government by building up a squad of characters, which become more powerful and specialized over time.
An important element of this are the items – weapons, armor and other equipment – you collect and craft. As well as making your characters more powerful, they also change their look. As is clear to see, the game's aesthetic – cyber/steampunk – is a big part of the appeal.
Neon District uses the Loom Network to handle its gameplay, with item ownership and trading all happening on the main Ethereum mainnet. Developed in Unity, Neon District will be released for PC/Mac and mobile devices.
Find out more at the Neon District website.
Reality Clash
Currently in closed beta testing, Reality Clash is free-to-play location-based AR/VR shooter for mobile devices.
The location-based elements see players moving around their local environment to take control of different positions such as resource nodes. In order to do so, they have to enter special battle portals – which mix AR controls and VR visuals – and fight it out with bots and real-life opponents. Key to this are the many different weapons that can be bought and sold, including rare items that can be traded on the blockchain via the game's web-based marketplace.
Adding a further metagame are the missions you have to undertake to level up and gain more resources, and counter-measures that can be placed to slow down your enemies.
Find out more at the Reality Clash website.
The Sandbox
Across several game releases since 2012 there have been over 40 million downloads of The Sandboxseries. That's a great starting point for what's one of the most ambitious blockchain games planned for 2019.
Not that The Sandbox is a conventional game. Like Minecraft and Roblox, it's better described as an user-generated content platform, in which you can spend your time building objects and worlds, and/or playing games with them.
This makes the latest version of The Sandbox a complex product that consists of; a 3D voxel editor for creation; an item marketplace for trading; and the actual sandbox environment where you can play with your items.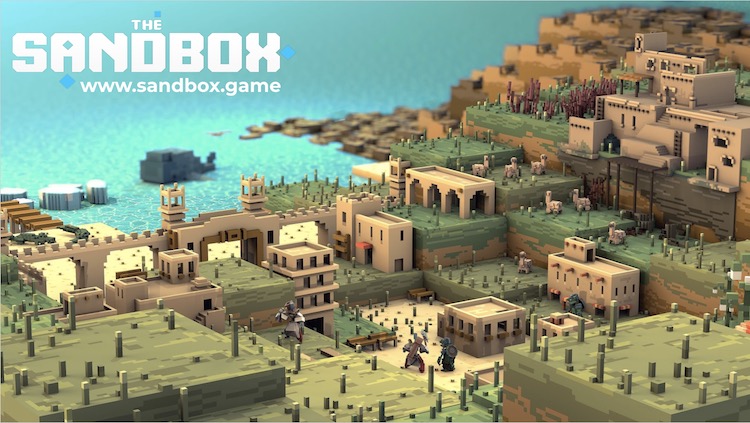 For that reason, The Sandbox isn't expected to be released until the end of 2019, although the editor and marketplace will see rolling releases of more stable versions throughout the year. Nevertheless, the project's potential is strong, which is why publisher Animoca Brands acquired The Sandbox's developer Pixowl for $5 million in late 2018.
This is a guest post from https://www.blockchaingamer.biz/features/3283/most-anticipated-blockchain-games/